So you ask... "What's extended drain intervals all about ?"
Here is some factual information and some Amsoil
user testimonials to help you see what it's all about.

GM (General Motors) and the state of California
are working together to break the myth about
the 3000 mile oil change.
Check out their website here

ExxonMobil Follows AMSOIL into Extended Drain Market
Motor oil technology has gradually progressed since the days of the earliest automobiles. In those days, standard motor oil drain intervals were between 500 and 1000 miles, and motorists had to switch viscosity grades with the changing of the seasons. The development of oil filtration and additive technology in the 1930s allowed drain intervals to increase to 2000 and later 3000 miles, while the development of viscosity modifiers in the 1940s allowed the formulation of multi-grade oils that could be used in both hot and cold temperatures.
According to AMSOIL Vice President Alan Amatuzio, the introduction of ExxonMobil extended drain oil is long overdue. "While AMSOIL INC. has certainly proven that extended drain intervals provide valuable benefits," said Amatuzio, "the fact that ExxonMobil is finally saying the same thing brings the message to even more people. ExxonMobil's move is significant in that more consumers will now recognize AMSOIL as the pioneer in extended drain oils and will benefit from the advanced technology we introduced 33 years ago."
ExxonMobil recently announced a new line of motor oils recommended for extended drain intervals.
It was only a matter of time before another company followed the path forged by AMSOIL over 30 years ago. Some motorists may recall that Mobil also followed AMSOIL into the synthetic motor oil business, introducing its synthetic motor oil several years after AMSOIL. The technology for extended oil drains is obviously available, but until now, the major oil companies have had other agendas. Marc Graham, who is president of Pennzoil-Quaker State-owned Jiffy Lube International, was quoted in a 2001 Lubricants World interview as saying, "At [PQS] we use a number internally that if we [shortened the drain interval] by 100 miles [for each car serviced], it would mean an additional $20 million in revenue for the company." He also explained that "if we could move our customers to get one more oil change per year, it's worth $294 million for the oil change alone and $441 million in revenue, when you include the ancillary products and services customers typically buy along with the oil change."
Mobil backed off 25,000 mile oil change intervals in 1974.
Mobil briefly recommended 25,000 mile oil drains in the 1970's. It's not difficult to figure out who they were trying to compete with. AMSOIL was the only other company offering synthetic motor oils and recommended 25,000 mile drain intervals. However, it may be that because vehicle manufacturers weren't yet comfortable with extended drain intervals, Mobil retracted its extended drain recommendations and simply recommended motorists follow the intervals specified in their vehicle's owners manual. Of course, traditional oil change recommendations also allow Mobil and other motor oil companies to sell a lot more oil. Everyone wins but the customer.
AMSOIL stands apart from the competition.
AMSOIL has always formulated its products to be the absolute best, continually researching ways to make its already outstanding products even better. Other oil companies, however, are beholden to shareholders, and one could speculate that their incentive is to maximize profit. They formulate oils down to a price, rather than formulating them to be the best they can be. Then, they price their products to maximize profits. In addition, AMSOIL has 33 years of experience blending premium extended drain synthetic oils. That's 33 years worth of proven performance in the field.
A close look at ExxonMobil's new long drain motor oil line reveals that two are petroleum based, one is a synthetic blend and only one, Mobil 1 Extended Performance, is a full synthetic. The petroleum based products are recommended for 5000 mile drains, the synthetic blend for 7500 mile drains and Extended Performance for 15,000 mile drains. However, a look at the fine print reveals that ExxonMobil is still recommending drivers follow the oil drain recommendations listed in their owners manuals during the warranty period. AMSOIL synthetic motor oils are recommended for 25,000 mile or one year drain intervals in both new and older vehicles. The AMSOIL warranty stands behind this recommendation.
AMSOIL has recommended 25,000 mile/one year drain intervals since 1972.
AMSOIL delivers the highest quality lubricants on the market. It's the AMSOIL identity, and it's what customers expect. Al Amatuzio coined the phrase "extended drain interval," and from the beginning, AMSOIL synthetic motor oils have been formulated for extended drain intervals.
Vehicle manufacturers are pushing for extended oil drain intervals.
Vehicle manufacturers in Europe have been recommending extended oil drains for years. In fact, the average drain interval in Europe is 10,000 miles. Vehicle manufacturers in the United States are definitely coming around to extended oil drains as well. Most owners manuals from recent model vehicles recommend 5000 to 7500 mile oil drain intervals. In addition, oil life monitors have become increasingly common on today's vehicles, allowing and encouraging motorists to increase drain intervals up to 12,000 miles, even when using conventional oil. Vehicles equipped with an oil life monitor no longer recommend oil changes based solely on mileage. The system measures engine operational data such as temperature, revolutions and speed to determine when the oil is nearing the end of its life.
The motor oil industry is faced with the extended oil drain interval issue.
The success of oil life monitors has posed a threat to motor oil companies who insist oil must be changed every 3000 miles. It becomes increasingly difficult to maintain this position when vehicle manufacturers are recommending significantly longer intervals with the use of their oil monitoring systems. This is no doubt one of the reasons ExxonMobil finally introduced a line of long drain motor oils.
---
Here is more about extended drain intervals.......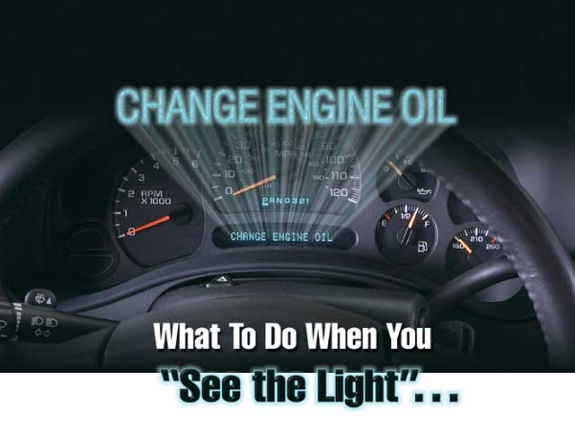 Today's motorist is confused. For several years GM and several other car manufacturers have been installing a monitor that uses a light on the dash to indicate when it's time to change oil. But oil companies and oil change facilities continue pushing the 3000 mile oil change interval. What's a car owner to do? The right approach is to follow the light, and to use AMSOIL XL, the one oil designed for today's OEM approved extended drain situations.

With AMSOIL XL you still get all the other benefits of a premium synthetic motor oil including:
Superior wear protection so that engines last longer
Improved fuel economy... More miles per gallon

Easier cold starts Cooler running engines in high heatReduced engine deposits
Resistance to oxidation and thermal breakdown
Increased horsepower
Superior shear stability and film strength
In short, with AMSOIL you get the best of everything: the convenience of longer drain intervals and performance benefits galore. Plus, it's better for the environment as well.
Manufacturers of petroleum-based oils have insisted that oil needs to be changed every 3000 miles, even for these modern vehicles with the light. Why not install an API Certified Synthetic Motor Oil that specifically states that it can be used for 7500 miles or six months, or longer if the OEM oil light sensor indicates as such. AMSOIL synthetic motor oils have been designed to go far beyond the requirements of engine manufacturers for peace of mind as you travel further between oil changes.

AMSOIL XL Synthetic Motor Oils is available in SAE 5W-30, 5W-20, 10W-30 and 10W-40 viscosity grades.

MORE INFORMATION ON DASHBOARD MONITORS
According to a feature story in the May 2004 issue of Lubes N Greases, "vehicles equipped with the OLS no longer specify or recommend any mileage interval for oil changes."* As we enter 2005, more and more cars will be going 10,000 miles and beyond without the light going on. GM has finally cut the cord. In 2004 their "April is Car Care Month" campaign advertised that the 3,000 mile oil change may be unnecessary. The alternative today is total reliance on their patented Oil Life System (OLS).


---
Here is real extended drain for you !
409,000-Mile Oil Drain Interval Mack Engine Teardown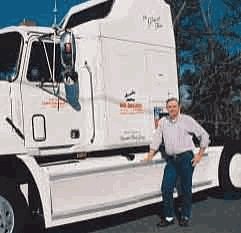 After 409,000 miles without an oil change, the AMSOIL-protected Mack E7-400 engine in this truck was as wear-free as an engine in comparable service treated to TWENTY TIMES the oil changes.


COLONIAL HEIGHTS, VIRGINIA - I didn't see any surprises in there at all. Based on my experience with AMSOIL Motor Oil, it came out the way we expected, said owner/ operator Haywood Gray (right) of his 1990 Mack E7-400 engine. It came out in good shape, exactly what you'd expect for a well-maintained engine with 630,000 miles. Yet the engines oil had not been changed for 409,000 miles!
Gray began using AMSOIL Synthetic Heavy-Duty Diesel and Marine 15W-40 Motor Oil (AME) in the E9-400 V-8 engine of his first truck, a 1984 Mack, after the engine accumulated 45,000 miles. For 280,000 miles, Gray changed his oil at 40,000-to 60,000-mile intervals though his oil analysis reports showed, without exception, that the oil was good for continued use. At 325,000 miles, Gray increased his oil drain interval to 100,000 miles. The engine was torn down at 600,000 miles when Gray decided to sell the truck. The cylinder liners, bearings, pistons, rings and oil pump, all treated to extended oil drain intervals with AMSOIL, were found to be in excellent condition. Gray continued using AMSOIL AME in the engine of his new truck, a 1990 Mack with a E7-400 engine. With the new truck, instead of using 100,000 mile drain intervals, Gray began basing his oil drains on the findings of a used oil analysis program. He also installed an AMSOIL By-Pass Oil Filter. After 630,000 miles total and 409,000 miles without an oil change, the E7-400 engine was torn down by the local Mack dealership in December 1996 and its parts were examined by an engine rater from a major oil additive manufacturer.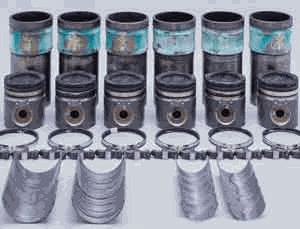 Findings
The engine showed light to moderate wear throughout, just as an engine in similar service and lubricated with conventional oil changed at 15,000- to 20,000-mile intervals would show. In fact, according to the engine rater the parts he examined cylinder liners, pistons, rings, bearings, valve train components could have been put right back in the engine and would have continued to provide the good, dependable service they had provided all along after 409,000 miles without an oil change!

Discussion


Many factors enable AMSOIL to be safely used 20 times longer than petroleum oils may be used:

Stability AMSOIL Synthetic Heavy-Duty Diesel and Marine 15W-40 Motor Oil is far less prone to thermal and oxidative breakdown than are petroleum oils. Stability inhibits the formation of carbon deposits, varnish, sludge and acids, which helps the engine run clean and protected.

Neutralization ability While rapid TBN loss often renders conventional oils unfit for continued use, 12 Total Base Number (TBN) AMSOIL Synthetic Heavy-Duty Diesel and Marine15W-40 Motor Oil offers lasting protection against engine corrosion.

Viscosity retention Some conventional oils viscosity slips out of specification within a few thousand miles of an oil change. AMSOIL Synthetic Heavy-Duty Diesel and Marine 15W-40 Motor Oil neither loses viscosity as shear-prone oils do, which promotes wear during high temperature operations, nor gains viscosity as oxidation-prone oils do, which promotes wear during startup and cold temperature operations.
The pins show no wear at all. The piston crowns and lands show a normal amount of carbon. The skirts are very clean with a few fine vertical lines.
Independent engine rater

The rings are very, very good. All the rings are free. None are broken. No plugging whatsoever in the oil rings.
Independent engine rater

Probably 95 percent of the crosshatching is still in the liners. No scuffing, no cavitation in the liners. The liners could go back in the condition theyre in.
Independent engine rater
Additional Demonstrations


Grays successful use of AMSOIL synthetic motor oil in extended drain service is not unique. AMSOIL has conducted demonstrations with fleets all over North America. In each instance AMSOIL has been proven safe and effective in extended drain use. In fact, these studies show that AMSOIL used in extended drain interval programs consistently delivers lower rates of engine wear than conventional oils used in conventional drain interval programs.

The rater found the valve train components showed, very light wear. Very good. [I] find no wear on the shaft, which can be a heavily loaded area.

Southern over-the-road fleet AMSOIL was used in Cummins class 8 engines for 75,000-mile drain intervals; the fleets normal drain intervals were 15,000 miles.

Upper midwest grocery fleet AMSOIL was used in Cummins NTC 350 engines for 74,000-mile drain intervals; normal drain intervals were 12,000 miles.

Northern grocery fleet AMSOIL was used in Detroit Diesel Series 60 engines for 79,000-mile drain intervals; normal drain intervals were 20,000 miles.

Virginia Beach, Virginia owner/operator AMSOIL was used in Cummins 350 engine for 325,350 miles without a drain.

Midwestern trucking fleet AMSOIL was used in Detroit Diesel Series 60 engines for 60,000-mile drain intervals; normal drain intervals were 20,000 miles.

Northern tier over-the-road fleet In an ongoing demonstration, AMSOIL Series 3000 5W-30 is being used in a fleet of Cummins N-14 engines for extended drain service with oil drains based on the findings of used oil analysis. One change was performed at one year with 125,000 miles on the AMSOIL. The oil was recommended for continued use. Normal oil drains are done at 20,000 miles.
Again, very, very light wear. These could be put right back in and used again. In an extended drain program [with petroleum oil] there's a possibility you could see maybe half again as much wear.

Independent engine rater

Light wear. They compare to [those in] an engine that had 15,000- to 20,000-mile [petroleum] oil and filter changes.

Independent engine rater

Minimal wear. These, too, compare to [those in] an engine that had 15,000- to 20,000-mile [petroleum] oil and filter changes.

Independent engine rater
Except for normal top polishing on the push tubes the rater found, no wear to speak of. These can go right back in the engine and be used again. The push tubes were put back into the engine and are in use today.
I see no reason why it [the engine] couldn't run on. Independent engine rater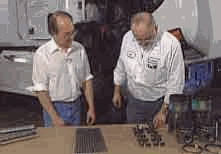 WHAT MAKES AMSOIL SO GOOD?
Synthetic basestocks, top-quality additives, and most importantly, more experience formulating synthetic motor oils than any other oil company, says AMSOIL Director of Technical Sales Dave Anderson.

AMSOIL first put a long-drain synthetic diesel oil on the market in 1975 and since then has introduced three other long-drain synthetic diesel oils.


DOES AMSOIL OFFER A WARRANTY?


Yes. AMSOIL warrants that the use of its lubricants will not cause mechanical damage to any mechanically sound equipment when AMSOIL products are used in full compliance with AMSOIL recommendations.
AMSOIL extended drain interval recommendations are set at a minimum of two times or more than the engine manufacturers recommendations as determined by oil analysis. Diesel operators who use AMSOIL for extended drains are fully protected.
Studies have proven time and again that extended drain intervals with AMSOIL are a win/win situation truckers win with less downtime and oil expense and they win big with reduced engine wear.

AMSOIL Synthetic Heavy-Duty Diesel and Marine 15W-40 Motor Oil Aces Test!


Haywood Gray has his used oil tested regularly to ensure the ongoing serviceability of the oil and well-being of the engine. In the engine oil report card, wear metals tell the whole story. A high wear metal content indicates a high rate of engine wear. In fact, most engine manufacturers publish upper limits on wear metals content at which an oil must be changed to assure continued engine protection. Even after 409,000 miles, AMSOIL protected better than Mack limits required. Now thats protection!

What Is Oil Analysis?


Oil analysis is a maintenance management tool that allows users to monitor equipment condition for maximum equipment life, maximum lubricant drain interval length and optimal downtime scheduling. Oil analysis saves users significant money by reducing equipment replacements and repairs, reducing the volume of lubricant purchased and destined for disposal and, most of all, by reducing downtime.

Oil analysis customers like Haywood Gray trendline their oil analyses. Trendlining involves comparing the results of previous oil analysis reports to those of the most recent report to establish trends in wear metals content, viscosity, acid content, acid neutralization ability and other characteristics as specified. Departures from established trends indicate a change in engine or lubricant condition and the information they provide may be used to correct abnormal conditions before they cause damage or failure.

What's Woody doing now?

Gray now drives a 1999 Mack with an ET 460 engine, an Eaton 13 speed transmission and 386 Eaton rears. As soon as he bought the truck it was retrofitted with AMSOIL 75W­90 Gear Lube and the engine changed over to his old favorite - AMSOIL Synthetic Heavy-Duty Diesel and Marine 15W-40 Motor Oil. He also had a BMK-12 By­Pass Filtration system installed.

As of July 2003, Gray has over 330,000 miles on the engine, and has racked up 290,000 miles without an oil change. He has decided to change filters and take oil samples at 40,000-mile intervals. So far, the samples have shown that the oil has not needed to be changed. Soot levels have also remained well within the recommended Mack limits. The truck is greased with AMSOIL products every 40,000 miles when it is time for a filter change.

Gray likes to point out that his fuel mileage is a constant 7-mpg, while other truckers hauling under similar circumstances and with similar equipment average only 5.5 to 6 mpg. But he also knows that's just one of the many benefits AMSOIL has to offer.
---
This trucker saved at least $15,000 on oil changes because he used AMSOIL.
"That could be the difference," he says, "between staying in business or not."

MIDLAND, MICHIGAN

-- Independent owner-operator Norman Stanick used AMSOIL Synthetic SAE 30 in his 1987 Caterpillar 3406 engine since the truck was new
(after breaking in the engine with another oil) until he sold it seven years and one million miles later.
He performed four oil changes during that period, basing his extended oil drain decisions on the findings of used oil analyses performed at 50,000 mile intervals.

After 848,000 miles, Stanick pulled the pan to fix a water leak. He decided to take a look at the main and rod bearings. He was there when the mechanic pulled them out. "There was not a shiny spot on any of those bearings. They miked out at new part measurements," said Stanick.

"I saved between $15,000 and $18,000 on oil changes. That could be the difference between staying
in business or not."


Stanick and his family use AMSOIL products in their cars and motorcycles, too. "I used AMSOIL in my wife's Old Cutlass Cierra. We put 212,000 miles on it with eight oil changes and sold the car to a guy who's tickled pink with it.

"Now my wife drives a Chevy Lumina with a V6 engine. We switched it to Series 2000 Synthetic OW-30 Motor Oil and picked up three miles a gallon. The engine runs cooler. In fact, that oil completely changed that engine. It impresses me tremendously."

Stanick's son races a Honda 750, in which he uses AMSOIL Series 2000 Synthetic 20W-50 Racing Oil. "The first time he put the oil in, he picked up a tremendous amount of horsepower. He came off
the track with a big grin on his face!"


Stanick now owns a truck with a 1994 Detroit Diesel Series 60 425 engine. He uses AMSOIL Synthetic 15W-40 Heavy Duty Diesel and Marine Oil in it. He continues to use oil analysis and changes his oil at 250,000 mile intervals.

"Let me tell you a story. My son and I drive team. We were in California pulling a 43,000 pound load.
It was three in the morning and my son was driving. Suddenly, all the dash lights came on.

"We pulled over, shut down the truck and looked under the hood. A filter had come loose and all the
oil had been pumped out of the engine. Every drop.

"Now that's a $25,000 engine that we ran without oil! But once we got the filter fixed and put some oil back it, it started right up and has run perfectly ever since. I'm sure AMSOIL saved my engine.

"I have no question I can run this engine two million miles with eight oil changes. People don't believe me. They tell me I'm crazy. I just smile all the way to the bank."

Places to buy About Amsoil 2 cycle oils Motor oils Amsoil tests
Extended Drain Commercial - Retail Amsoil Racing Oil & Air Filters Gear Oils